HUMAX STB wins Product of the Year in Australia
– Product of the Year by 'SmartHouse' and 'Sound+Image' magazines
– Leading company in the premium set-top box market with its growing sales volume and Media reputation
(Dec. 8th 2014)… HUMAX set-top box becomes Product of the Year in Australia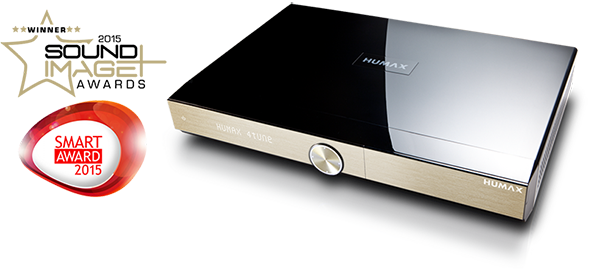 Smarthouse, Australia's prestigious household appliance magazine announced HUMAX's Home Media Server (HMS-1000T) as Product of the Year on 8th of December. It is another remarkable achievement of the company after its HDR-7510T model was picked as Product of the Year in 2013. HUMAX expects that this will provide great momentum to the company with rising brand power and consumer recognition in the market. The device was also named Product of the Year by Sound+Image, an audio visual specialized magazine as well as being on the cover of the magazine last October, which is extraordinary for set-top box devices.
This recent favorable media feedback is driven by product competitiveness. The judges, composed of experts in the industry said "In every aspect of the product, from design to screen composition, technology, performance and its user-friendly features, it is absolutely a way better than their competitors'. The recognition is a result of HUMAX's advanced technologies and capabilities that it has owned as a leader in the set top box industry in North America and Europe for many years.
HMS-1000T features all of the latest technologies of set-top box. It allows users to record four different channels simultaneously, access various contents through HUMAX TV Portal and provide 7day weekly program guide and Catch-up feature. Furthermore, it maximizes mobile user experience with smartphone and tablet and enhances media server. The device supports multi-screen feature, allowing users to share mobile contents on their TV while controlling their set-top boxes outside their home such as video recording with their mobile devices.
HUMAX is known as the best set-top box brand in markets of Europe and Middle East and also now becoming a leading brand in the Australia's premium market. Despite the fact that HUMAX only entered into the Australian market in 2011, it has built a solid business foundation in a very short period of time, while gaining reputation in the market for its excellent product quality.
"We are very pleased to hear positive feedback from the public including industry experts and consumers as we have put our best efforts in planning the product for the purpose of providing greater and convenient TV watching experience to users.", head of HUMAX Australia, Young-Gyun Kim said. He also addressed that the company will focus on spreading their products across Australia, bringing new user experience and entertainment to more consumers in Australia.
HUMAX has been successfully adding biggest names in the industry as partners such as Harvey Norman and The Good Guys. And the company will continue focusing on accelerating the business performance, which is expanding distribution channels in Australia.