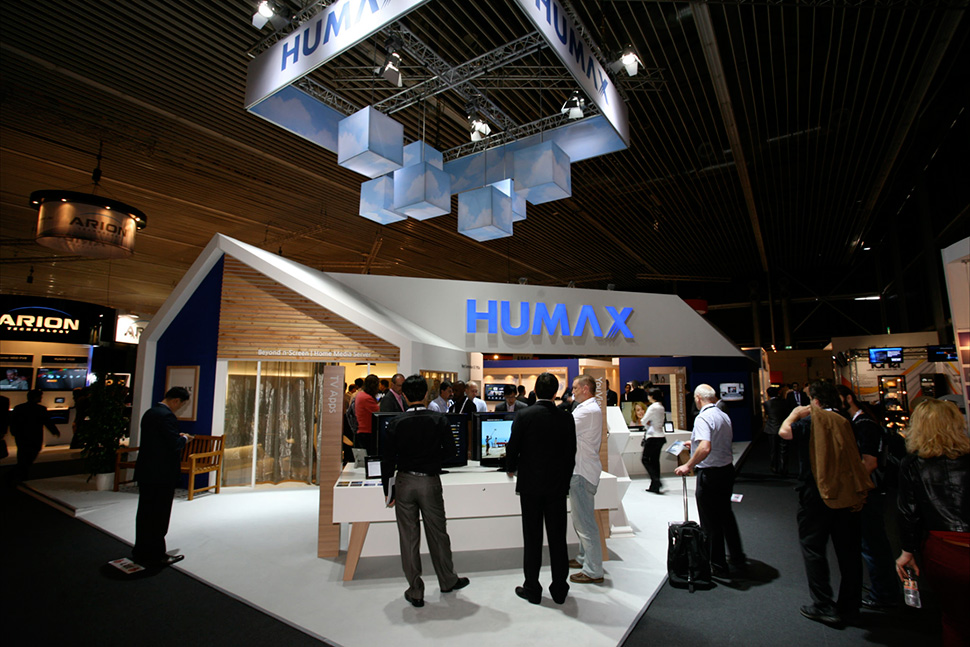 Humax to showcase its 'UHD set-top box' in Europe
– Humax to unveil its 'UHD set-top box' at 'IBC 2013', Europe's largest professional broadcast trade show
– Humax to demonstrate its next-generation home network using Home Gateway Server
(Sep 12, 2013)… Humax (President Byun Dae-gyu, www.humaxdigital.com) announced that it will participate in 'IBC 2013', Europe's largest professional broadcast show, which will be held in Amsterdam, from September 13th to 17th, to unveil its next-generation product lineup, including the UHD set-top box, Home Gateway Server (HGS), and Residential Gateway (RG).
Humax will unveil its UHD set-top box to demonstrate the reception and playback of UHD broadcast signals via the world's largest private satellite operator, SES Astra satellite. The UHD broadcast signals use H.265 (HEVC) codec, which has 50% better compression efficiency than the existing technology, and offer resolution measuring 3,840 x 2,160 pixels, four times that of the existing Full HD.
The UHD broadcast has recently been thrust into the limelight, and major global commercial broadcasting companies are vying with each other in rolling it out commercially around 2015. SNE Research, a market research firm, forecasts UHD televisions will make up 12.5% of the entire television market by 2016.
Humax will demonstrate a newly upgraded home network, using Home Gateway Server, which enables users to receive, record, and transcode broadcasts; Residential Gateway, which supports wired/wireless Internet and VoIP; and Smart Box, which allows users to play streaming content.
Humax's newly launched home network service allows users to watch up to three different channels simultaneously via connected devices, such as a TV set, Smart Box, and tablet while at the same time recording up to four channels via all the devices on the network, and sharing content like videos, music, and images stored on the devices.
President Byun Dae-gyu said, "Recently we have witnessed new market-changing innovations like ever growing IP services, the convergence of broadcasting and communications, and UHD broadcast," adding "We're going to strengthen our position as a leading company in the set-top box market, as we have before with digitalization in the early 2000s and conversion to HD in the mid-to-late 2000s."
The International Broadcasting Convention (IBC) is Europe's largest professional broadcast show and is held every September in Amsterdam. This year, the show will be held for five days starting September 13th, and is expected to attract more than 1,400 leading suppliers of state-of-the-art electronic media technology from 160 countries. (end)
[Terminology]
1) UHD (Ultra HD)
a resolution of 3,840 x 2,160, which is roughly 4 times the number of pixels in Full HD format (1920 x 1080), also known as '4K'
2) H.265 (HEVC) Codec
the next-generation video codec formally approved by the ITU, with 50% better compression efficiency than H.264 (AVC) for the existing UHD broadcast demonstrations
3) Transcoding
the process of converting TV broadcast signals so that they can be viewed on connected devices, such as tablets, and smartphones
4) Residential Gateway
a home networking device for access/relay between wired/wireless home network and the Internet
5) Smart Box
an IP-dedicated set-top box that supports OTT service (streaming), also functioning as a client box when connected to a home gateway server
[About Humax]
Humax, founded in 1989, is a global leading set-top box company. It is now supplying high-quality digital set-top boxes and DVRs (Digital Video Recorder) to major cable, satellite, terrestrial, and IPTV operators in over 80 countries. Its head office and R&D center are located in Korea, and it has 16 foreign branches across the world, covering the UK, the US, Germany, Dubai, France, Italy, Japan, Thailand, and Australia. Its gross sales for year 2010 exceeded 1 trillion won, and it has around 900 employees throughout the world.